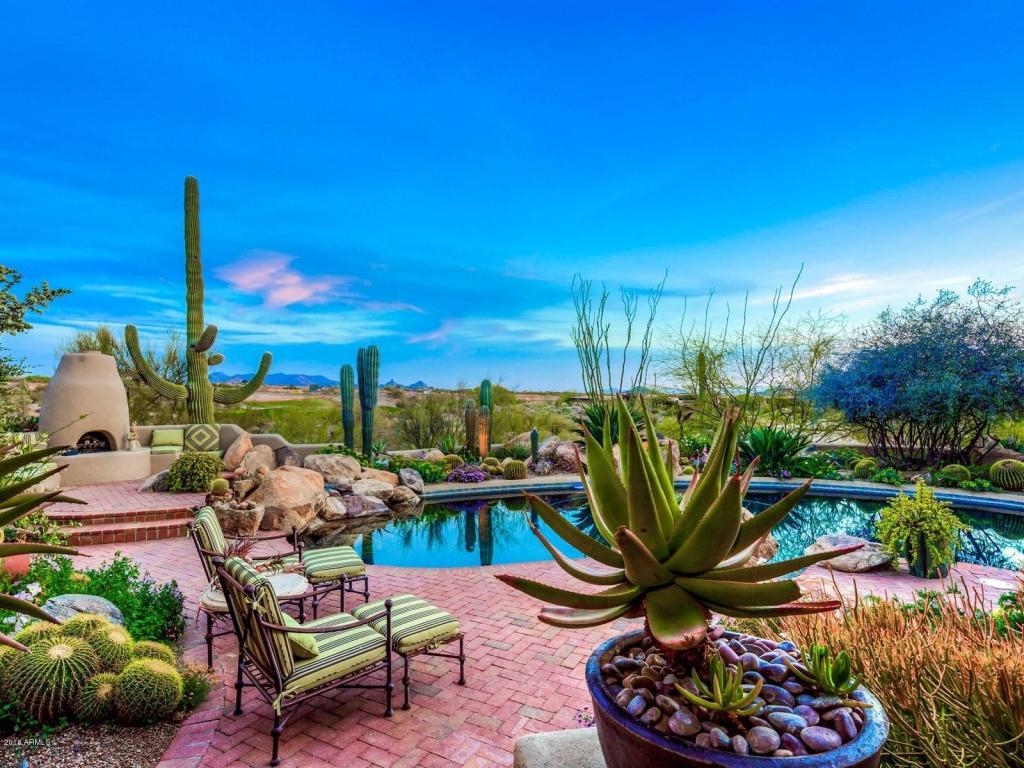 Whether you're hoping to increase your home's curb appeal or you simply enjoy gardening, your yard matters. Here, we dive into the top gardening and landscaping trends, so you can have a beautiful and sustainable yard. Plus, these tips are perfect for homes in Arizona — where we need to have a gorgeous yard that withstands the heat of the area.
1. Native Arizona Plants
One of the hottest landscaping trends, and one of our favorite trends, is to use native Arizona plants in your yard. By planting Arizona flowers, shrubs, and cacti you can add natural pops of color to your garden. From Beavertail Prickly Pear to Chuparosa and Red Justicia to Desert Marigold, there are plenty of colorful native flowers to play with in your garden.
And, by incorporating local plants, you're sure to create a garden that will survive in the Scottsdale sun — because the plants originated in this weather. Plus, these plants encourage pollinators, making them good for the flora and fauna of the area. Your use of native Arizona plants will, therefore, be a great addition to your landscaping and the surrounding environment.
2. Plant Walls
You've probably walked into a restaurant, shop, or luxury home and seen this — a wall of lush, green plants. Now, plant walls are the ultimate landscaping feat. Whether you incorporate a plant wall in your home, in your backyard patio, or lining your garden, you're sure to create a statement. These vertical structures can be made out of ladders, fences, walls, or custom made planter walls.
Additionally, there are some unique perks of plant walls. You won't have to bend over to tend to these gardens. And, plant walls can create extra privacy in your backyard.
3. Organic Materials
Interior and exterior design trends favor organic materials. In your outdoor space, consider adding granite to outdoor countertops, Mexican beach pebbles along walkways, and natural fabrics for your patio furniture upholstery.
By mixing organic textures into your garden and outdoor living areas, you'll create a visually appealing space that doesn't appear overpowering or ostentatious. Organic materials and fabrics create a simple transition between your lawn and plants and the structure of your house.
4. Cozy Spaces
Your outdoor landscaping and garden can be about more than the flowers that you plant. Be sure to consider the areas that you spend time in as well. Now, it's on-trend to build hygge into the backyard spaces that you relax in and host guests. Consider adding glowy lights or a fireplace to create a warm and intimate ambiance. Vertical plants that cover fences and create privacy will also add to the coziness of your yard.
5. Edible Landscaping
Planting a garden that's edible is a win-win situation for you. Not only do these plants look great, but they also provide fruits, vegetables, or herbs for you to use in your everyday cooking. Basil is an especially good plant to grow during the summer months, as it tends to do well in the heat. Also consider planting lettuce, chard, and grapevines in Arizona.
6. Zero-edge Pool
Zero-edge pools appear to seamlessly merge water and the surrounding ground without interruption. With this type of design, the water spills over the edge of the pool and then filters into a thin opening and trough around the inground pool. This spa-like design is the epitome of backyard luxury.
And, homeowners around Scottsdale are constantly impressed by zero-edge pools that push the boundaries of typical backyard amenities. Whether you want a relaxing area to swim at home or you're hoping to recreate a spa-like experience in your backyard, a zero-edge pool should definitely be a consideration.
Keeping a well-maintained yard is important. This space will be the first thing people see when they walk up to your house. Plus, outdoor spaces can be designed to host guests or for your own enjoyment. If you're interested in learning how you can implement the top landscaping trends in your yard — or if you're hoping to find a luxury home in the area that has beautiful gardening already —
reach out
. It would be our pleasure to help you find and create the home of your dreams.