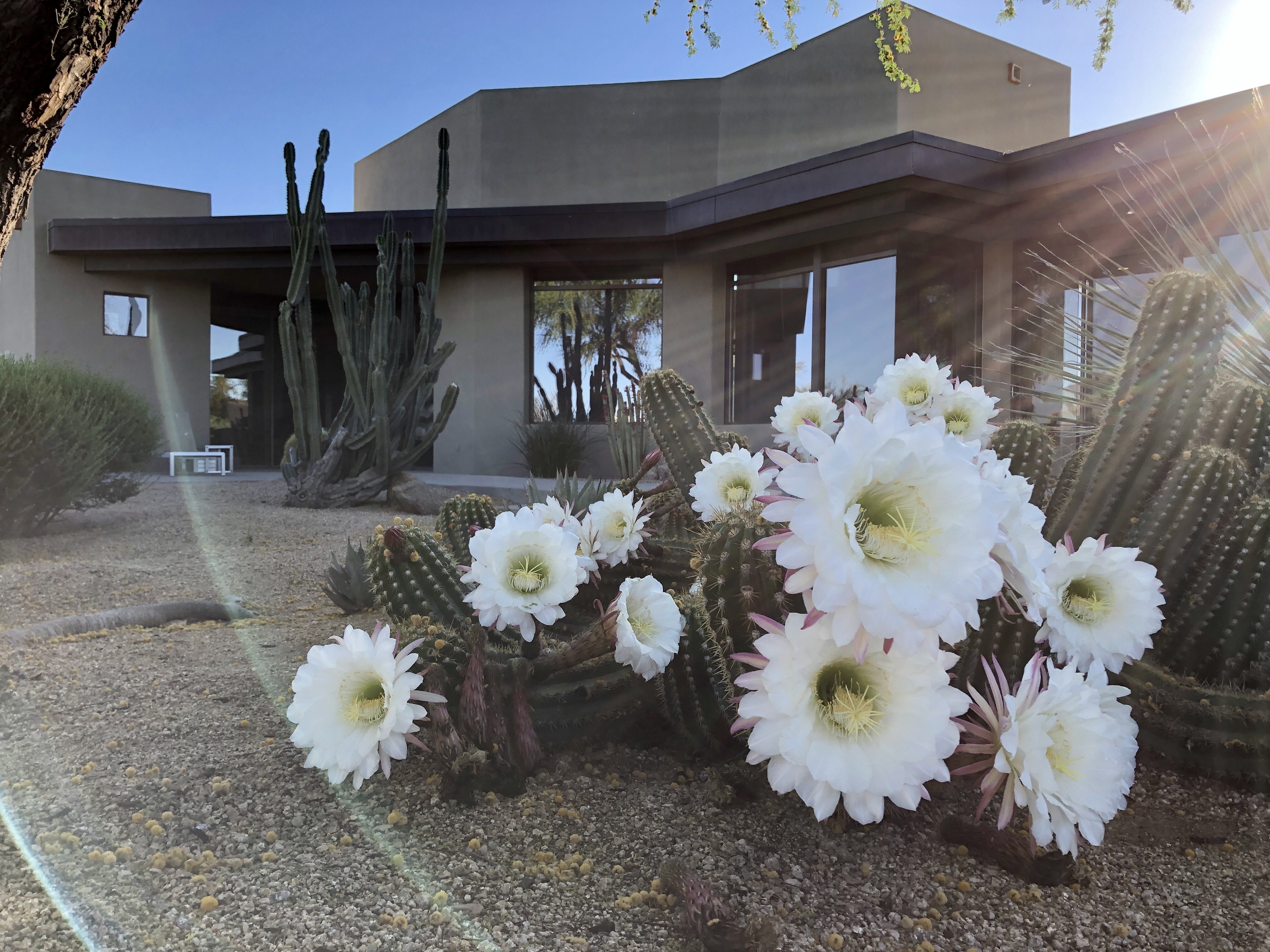 Do you want to add some plants to your house or landscape that don't need much care? A cactus is a great low maintenance option that can be both easy and attractive. Cacti typically come from dry areas and can go weeks without water. You can also find cactus in many different shapes and sizes! On top of this many cacti bloom very colorful flowers to suit your taste and style.
1. Balloon Cactus
The name of the balloon cactus is quite indicative of its shape. It is native to southern Brazil and other nearby regions. The round body of the cactus has parallel rows of pale yellow spines running down all of its sides. From spring to summer, and sometimes early fall, the balloon cactus produces bright yellow flowers. And, it usually flowers more than once. This cactus is fairly slow growing and may reach up to 12 inches tall.
2. Blue Barrel Cactus
The blue barrel cactus is native to eastern and central areas of Mexico, and it gets its name from its short and round shape. It has a bluish green appearance with light yellow spines. It also produces funnel-shaped yellow flowers which are followed by little white fruits. The blue barrel cactus grows slowly up to 22 inches tall and 20 inches across. Whether you want an indoor or outdoor plant, a Blue Barrel Cactus will suit you. It primarily grows as a single barrel until older when other heads begin to form.
3. Desert Gem Cactus
The Desert Gem Cacti are very colorful and can be a fun way to add a pop of color to your home. They feature bright clusters of spines that can be pink, green, purple, orange, or blue. However, they are not naturally colored, so if new growth does appear, it will have white spines. The spines are also relatively soft compared to most other cacti making it a great house plant for a desk or tabletop.
4. Old Man Cactus
The Old Man Cactus has a lot of unique character and is native to regions of Mexico. It has white fuzzy hairs covering its body. As an outdoor plant, they are slow growing but can reach over 20 feet tall. However, an Old Man Cactus is typically grown indoors and remain small as potted plants. It sprouts two whitish pink flowers that open during the night and one mature can produce pinkish red fruit covered with yellow hair.
5. Parodia Nivosa
The Parodia Nivosa is a small round cactus native to many regions of South America. It is dull green in color and is covered with clusters of snow white spines. During the spring it produces bright red funnel-shaped flowers. It usually grows as a small single cylinder, typically only reaching around 6 inches in height and 3 inches across. It is easily maintained as a potted house plant and requires a warm climate to survive outside.
Are you looking for new ways to spruce up your home or landscaping? Read more on our blog. And, get in touch if you're interested in purchasing a Desert Mountain home. It would be our pleasure to introduce you to the neighborhood.