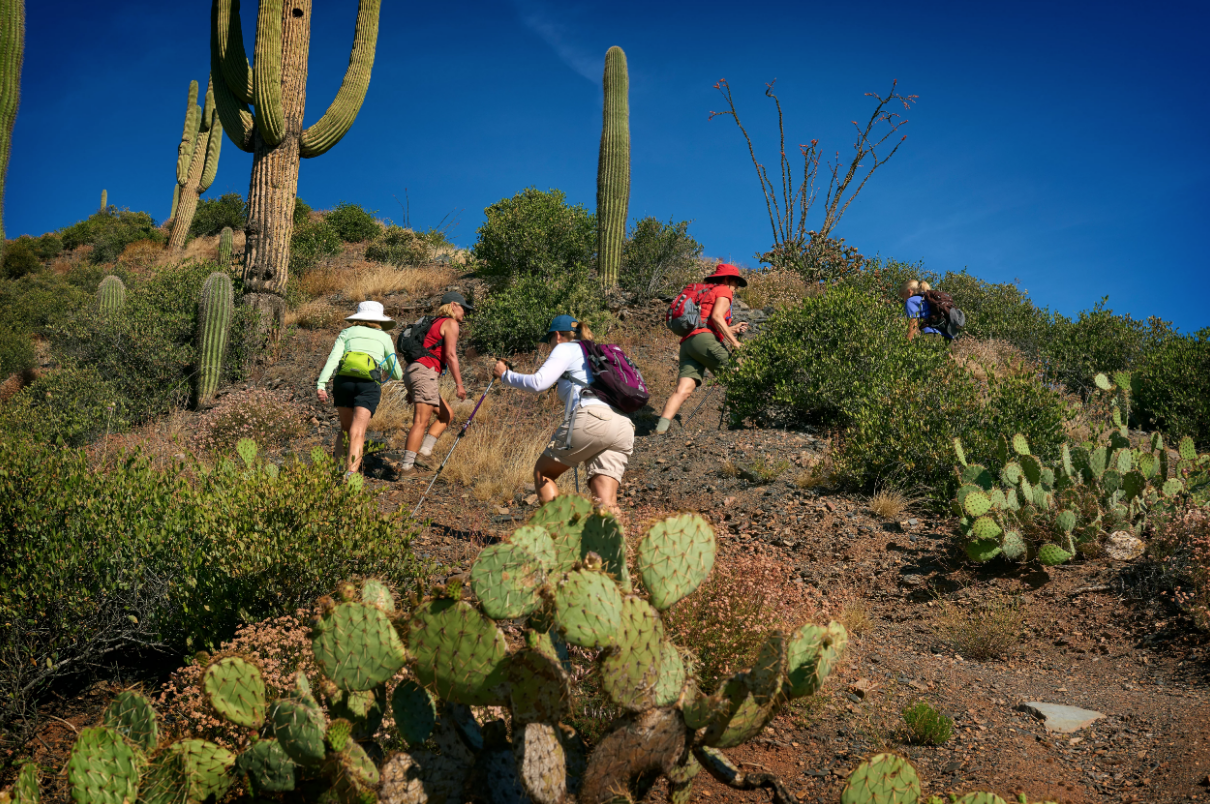 Residents of Desert Mountain are fortunate to have an abundance of trails surrounding them and their homes. This system of trails was built for individuals to enjoy a variety of recreational activities. Hiking, biking, running, bird watching — and so much more — are options for people to get out and enjoy the beauty that nature within the Desert Mountain community has to offer.
Are you ready to hit the trails? Find everything you need to know about the Desert Trail system in our blog post.
Desert Mountain Trail System 101
Desert Mountain provides unparalleled access to a variety of hiking trails. In fact, 12 award-winning hiking trails are located within the 3000-acre wilderness area. What's even better, is that these trails combine to offer 31 unique routes for hikers to try. Each trail is accompanied by spectacular mountain views and desert scenery.
In addition, this unique natural setup offers amenities to residents. Thes outdoor programs include a luxury tent camp, equestrian center, and covered picnic ramadas.
Trail Guides
If you'd like to explore the trails, but you'd feel a bit more comfortable with the guidance of an expert, don't worry! Desert Mountain provides both an interactive map and guided hikes to help you get acquainted with the surrounding paths.
A 55-inch touch-screen monitor is mounted at the trailhead. Known as an "interactive trail guide," this screen provides information on weather, hiking rules, plant descriptions, and upcoming event details. If you're stuck deciding on which hike is best for you and your group, this map will sort the various trails by distance, elevation, and estimated time to hike for your convenience.
Plus, Desert Mountain offers guided hikes and bike tours. For more information and to schedule your hike, contact the Sonoran Clubhouse at Desert Mountain.
Friends of the Trail
While hiking on the abundant Desert Mountain trails, you may run into some friendly faces. The Desperados Trail Scouts are a group of volunteers that are partnered with the Desert Mountain Community Foundation. These individuals enjoy the outdoors and are passionate about protecting and promoting the outdoor offerings within Desert Mountain. If you happen to meet a Desperados Trail Scout, be sure to discuss your shared interest of the outdoors.
Finally, the Desert Mountain trail system is part of nature. While exploring the various trails, you may cross paths with animals (like snakes, bobcats, or mule deer). If you spot an animal, be sure to keep your distance and remain vigilant.
It's time to get moving. Grab your kids, friends, or neighbors and set out on one of Desert Mountain's many trails. If an elaborate trail system sounds like something you'd like in your backyard,
reach out
. It would be our pleasure to match you with your dream Desert Mountain property — complete with trail access and all!
To learn more, check out this section of our website dedicated to the trails.