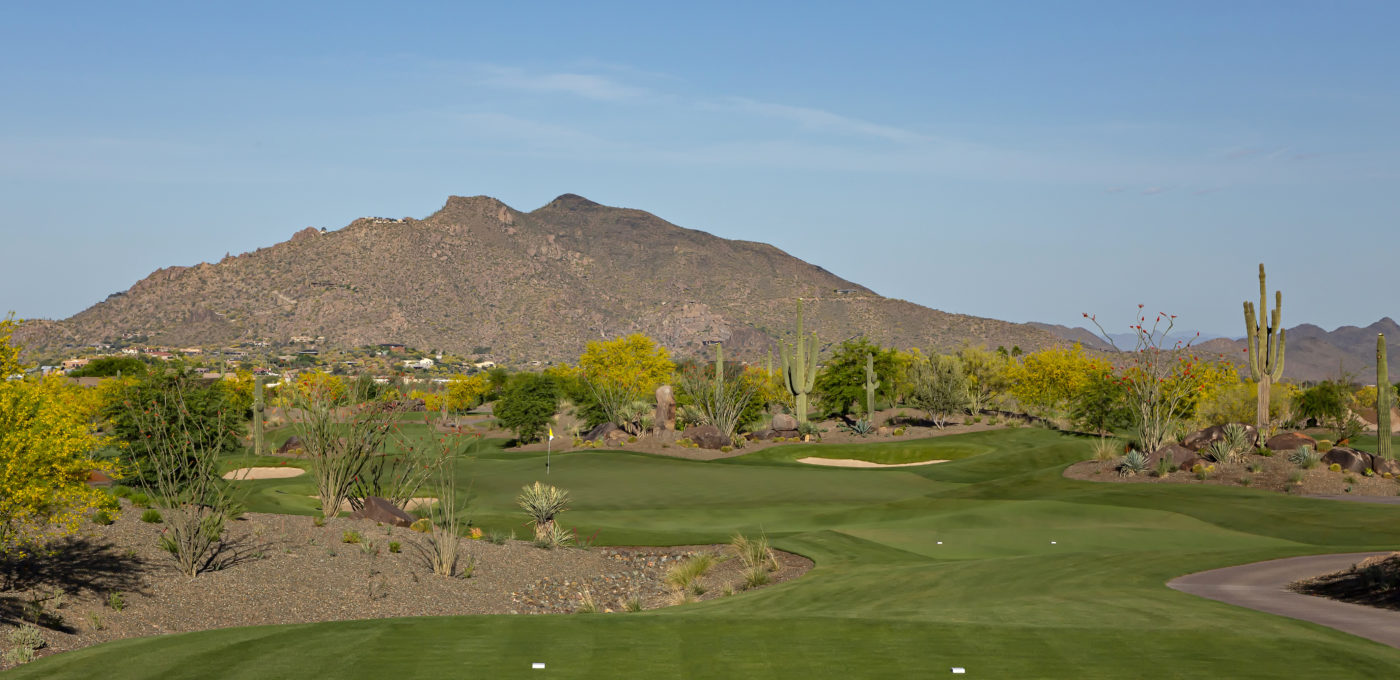 Desert Mountain is filled with luxury homes, gated villages, and unparalleled amenities. Now, the newest community — Seven — is ramping up the level of prestige within Desert Mountain as a whole.
In this blog post, we'll introduce the 4 reasons why you should take a look at this new neighborhood. And…you may even come to realize that Seven is a perfect fit for you and your family.
1. Exceptional Golf Course
Seven is located on a 18-hole, USGA-rated course. Here, each hole ranges from 60 to 267 yards, and as a whole, the course measures 3114 yards. Par for this course is 54, making it one of two private Par 54 courses in the United States.
Although the course was expertly designed by Bill Brownlee and Wendell Pickett, individuals of all ages and skill levels will love playing a round of golf at Seven.
2. Desert Mountain Amenities
When you become a homeowner in one of Desert Mountain's gated communities, including Seven, you can also become either lifestyle or equity golf members of Desert Mountain. This process is subject to Desert Mountain membership approval. Upon approval, you will gain access to the unbeatable amenities within the community.

Some of Desert Mountain's most notable amenities include the Sonoran Spa and Fitness Center, multi-court tennis complex, private hiking trail system, championship golf courses, newly renovated clubhouses, and delicious restaurants.
3. Variety of Home Styles
The Village at Seven: The Village at Seven by Cullum Homes was designed to offer luxurious, lock-and-leave properties. Cullum Homes states "Reflective of the custom design, high level of finish and attention to detail experienced in our luxurious Village communities in Paradise Valley's Mountain Shadows and Scorrtsdale's Silverleaf, our residences at Severn Desert Mountain will range from 3000-8000 square feet."
These properties range from single to two-level homes. Interestingly, homeowners have the option to transform their basements into "19th hole" golf entertainment centers, where simulators, wet bars, and other amenities are showcased.

The Villas at Seven: The Villas at Seven by Camelot Homes feature detached, luxury, patio homes. Each property ranges from 2600 to 4500 square feet in both single and two-level floor plans (two-story homes feature elevators). Additionally, homes include contemporary styling, 3-car garages, high ceilings, and panoramic views.
The Retreat at Seven: The Retreat at Seven by Family Development is located adjacent to the fairwas of the Seven golf course. Here, high-end condominiums are available for purchase. These properties are ideal for those who prefer low-maintenance living while still enjoying luxurious amenities. Homes of this style range from 2400 to 2700 square feet. Plus, The Retreat at Seven is located just steps away from Seven's new clubhouse.
4. Stunning Landscape
Homeowners within Seven overlook the gorgeous landscape. Resembling a serene desert escape and parkland, residents are consistently awe-struck by the natural beauty that surrounds their homes. In this community, you're sure to see distant mountain ranges, desert cactus and plants, and far off city lights.
Not to mention, a cool stream runs through the Seven Community and five holes on the golf course. This provides an extra sense of wonder in Seven and the surrounding landscape.
What do you think about Desert Mountain's newest community? If you're ready to explore homes in the area or you have specific questions that you'd like answered,
reach out
. It would be our pleasure to assist you as you peruse the homes and amenities of Desert Mountain's Seventh Wonder — Seven.