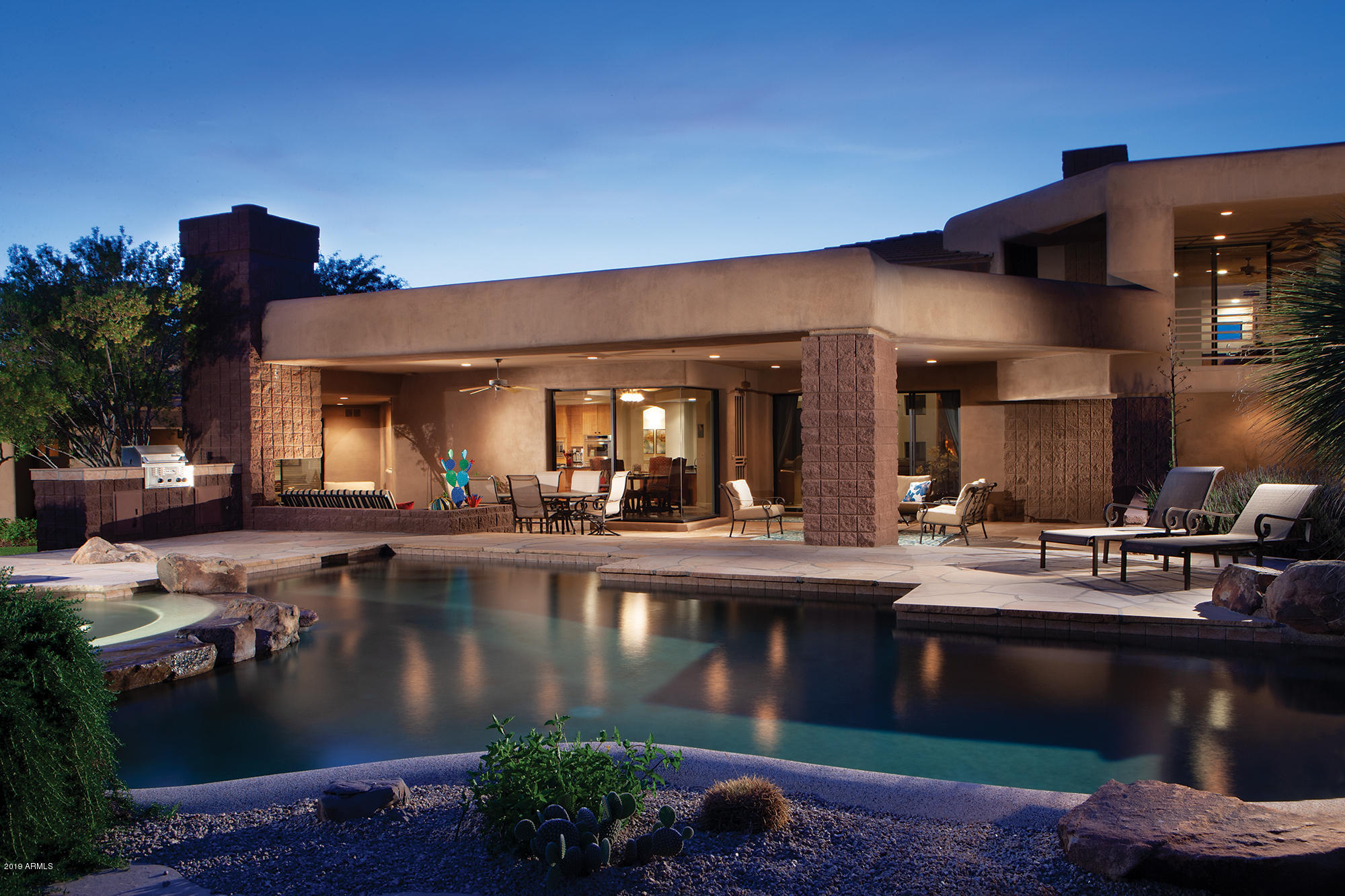 One of the most desired home features is living spaces that are able to transition from indoor to outdoor. This may mean that a home has large sliding glass doors that allow interior and exterior spaces to flow from one to the next, or it could mean that a home has an outdoor space that functions like typical indoor rooms do.
With that being said, outdoor spaces are used for more than just curb appeal (although that helps too!). Nowadays, the backyard, patio, and front lawn are becoming functional areas for homeowners to enjoy throughout the seasons.
In this blog post, we'll showcase some of the most impressive indoor-outdoor spaces throughout Desert Mountain. Let's get into it…
With a large deck and even bigger outdoor pool, this property features two levels of indoor-outdoor excitement. Whether you spend time lounging in the properties outdoor seating poolside or with views above the courses sunset fairways, this property provides many indoor-outdoor areas for you to enjoy.
The open patio in the backyard of this East Prospect Point home offers extensive space for entertainment. Additionally, this property has an outdoor grilling station where you can cook meals for guests, and an exterior fire pit where you can warm up on cool desert evenings.
Views of Apache Peak and the Apache Driving Range come with this additional East Prospect Point home. And, seeing as the surrounding nature and views are so incredible, this property takes advantage of its outdoor spaces. Simply step outside your luxurious home and you'll be welcomed by an outdoor patio that's just as spectacular. Here, you can grill, relax, and host guests.
From the inside of this home, you'll enjoy panoramic views of the nearby mountain ranges. Plus, these sights are offered from nearly every room in the house. Additionally, at the edge of this property is a private pool. This relaxing space provides the comfort of your luxurious home in an outdoor setting.
Are you looking for a property in Desert Mountain? If so,
let's get in touch
. As Desert Mountain experts, it would be our pleasure to connect you with a home in one of Desert Mountain's highly coveted, gated communities. And, if a unique indoor-outdoor space is on your home's must-have list, we'll be sure to find a property that checks that box for you.