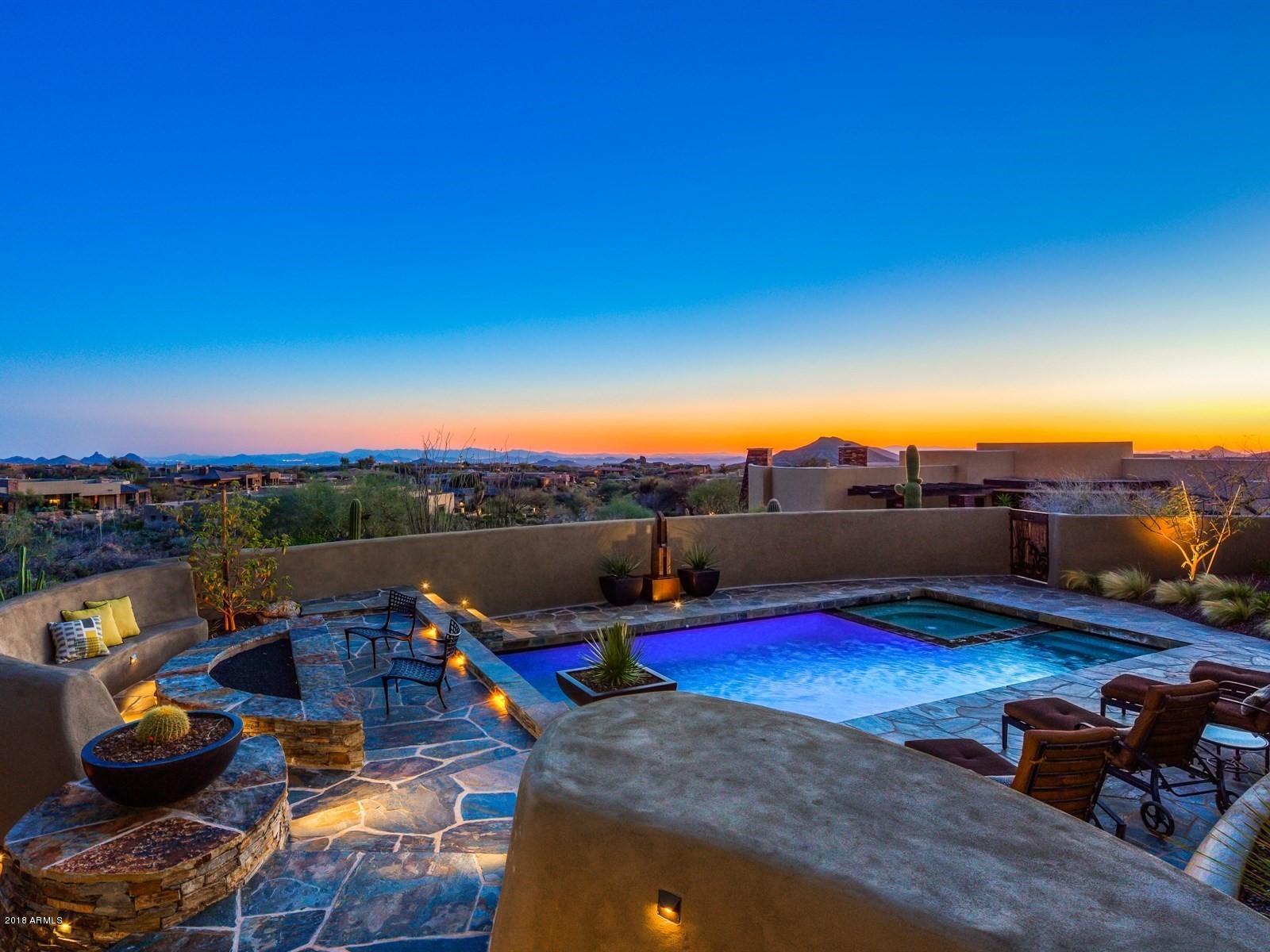 Have you always dreamed of having a beautiful golf course home with a pool? Lucky for you, Desert Mountain is filled with these properties. Behind the gates of each neighborhood awaits a variety of homes. In addition to community pools, these properties feature private pools as well. So, if you're ready to swim exercise laps or you'd just like to cool off from the Arizona heat, these properties will be perfect for you.
This home offers owners a fenced and heated pool. What's more, is that the pool overlooks the expansive desert scenery and distant mountain ranges. Surrounding the pool are a variety of lounge seating options, lighted pathways, and an outdoor fire pit. If you're looking for a property with a versatile and comfortable pool, then this is the place for you.
This property features both a heated lap pool and play pool. Here, homeowners can enjoy the luxury of relaxing in calm water, getting in their exercise by swimming laps, or both! Double the pools equals double the fun and enjoyment. Homeowners seeking the ultimate aquatic escape should look no further than this Desert Mountain house.
At this property, homeowners also enjoy both fenced and heated lap and play pools. Additionally, one of the pools features stepping stones that guide you to a floating seating area. Here, you can enjoy a meal or read a book above the water. This Desert Mountain property is extremely unique, and it's pool features should not be overlooked. Be sure to check out this home and the surrounding pools too.
Alongside formal and casual outdoor seating and dining areas, this property features a pristine body of water. The private pool at this home is located at the edge of the property, overlooking the surrounding desert terrain and mountain ranges. Additionally, this pool is ideal for hosting guests, as it is adjacent to an expansive patio area.
For the ultimate home with a pool, look no further than this East Madera Drive Home. This property is extremely beautiful thanks to it's private and heated play pool. In additional, this pool features organic rocks and stones, creating a unique transition from the surrounding desert nature to the refreshing pool water.
Are you ready to purchase your poolside Desert Mountain home? If so,
give us a ring
. It would be our pleasure to set you up with a property that meets your needs. And, once we find it, you can celebrate poolside with a fantastic view of the mountains, greenery, and distant city lights that nearly every luxurious home in Desert Mountain offers.