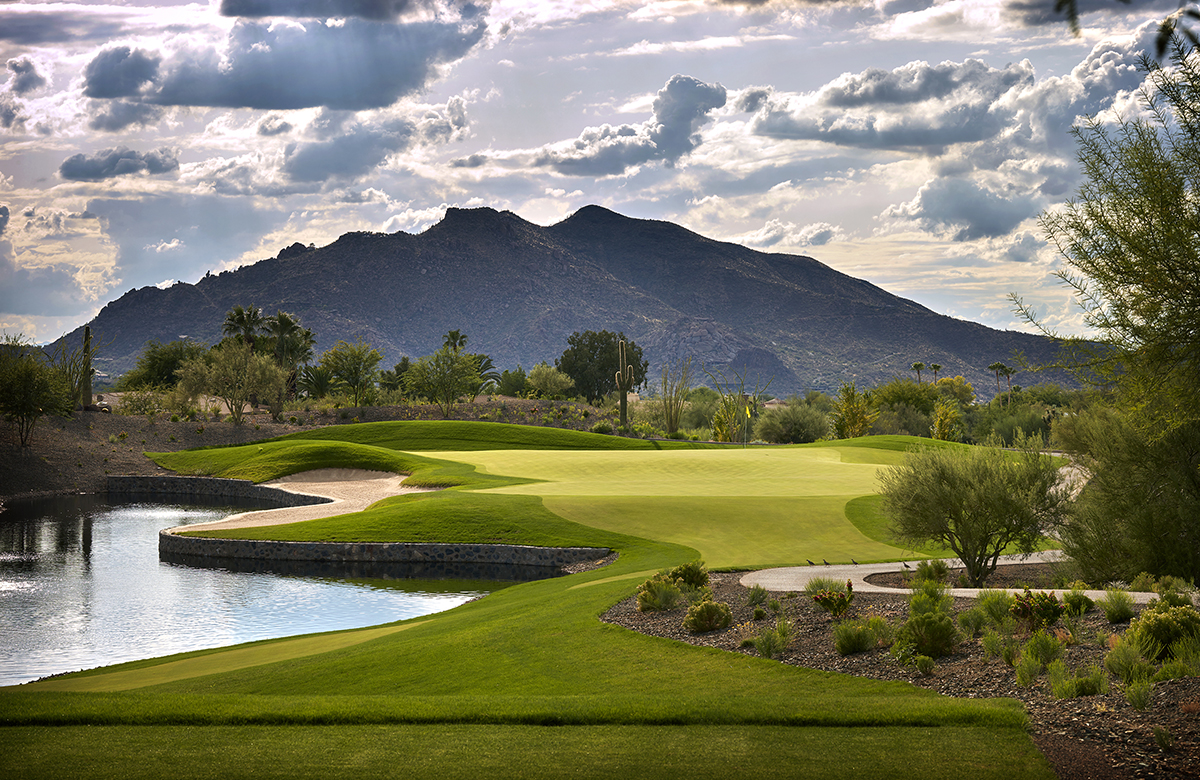 It's a new year – it's a new decade! If you're hoping to set the stage for this exciting period of time in a fresh home, be sure to consider the properties in Desert Mountain's newest community: Seven.
This luxury community is truly unique. Homeowners have plenty of options to customize their home design and living experience while also being part of the prestigious Desert Mountain property. In addition, homeowners of Seven have the opportunity to become either lifestyle or equity golf members at Desert Mountain. This allows residents access to the many amenities of the community and Desert Mountain as a whole (subject to Desert Mountain membership approval).
If you're considering a home in Seven, now's the time to look. We're happy to share our favorite parts of this community, including why Seven should be on your list of neighborhoods to search for your next property. And, if you'd like to tour a home in-person after reading this article, give us a ring.
Neighbor a one-of-a-kind par 3 golf course
The Desert Mountain golf courses are the epitome of luxury living. Featuring a handful of the most prestigious, a home at Seven will offer you unlimited access to greens and fairways. Additionally, each course is specifically designed to both entertain and challenge golfers of many skill levels. Get ready to enjoy a round of golf — and the scenery of the adjacent golf course — from your home in the Desert Mountain community Seven.
Select your preference of three distinct real estate offerings
Seven at Desert Mountain has a wide array of real estate options. This luxury community is designed to incorporate unique home styles, including:
The Village at Seven by Cullum Homes

The Villas at Seven by Camelot Homes

The Retreat at Seven by Family Development
To view a map of the setup at Seven, click here. And, you can rest assured that no matter which type of property you select, you will own a superior modeled house and yard.
Surround yourself with beautiful natural elements
One of the most attractive qualities of a home located within Seven is the constant beauty that surrounds each property. Natural elements, including a stream that runs through the community and assorted desert plants, enhance the community of Seven.
And, if you're hoping to enjoy the expansive range of outdoor activities and natural scenery that Desert Mountain offers, be sure to visit The Ranch or the miles of hiking trails within the community. As a homeowner in Seven, you will have nearly immediate access to these amenities at all times.
Enjoy the newly renovated Sonoran Spa and Fitness Center
Although your home at Seven will provide you with all the rest and relaxation you could wish for, as a member of Desert Mountain, you will also have access to the Sonoran Spa and Fitness Center. This facility is equipped with the latest spa amenities, such as skin and body treatments. Plus, the fitness center features state-of-the-art exercise equipment, exercise and family pools, tennis courts, and so much more. Take advantage of this recently renovated facility near your home in Seven.
Give us a ring
Are you ready to move into a property at Seven? If so, reach out. It would be our pleasure to search through home listings and tour the models that not only meet but also exceed your wishes.
The Power of 4 is made up of Desert Mountain Experts. We have over 50 years of combined experience with real estate in Desert Mountain alone, and we are confident in our ability to "wow" you with a home in Seven.