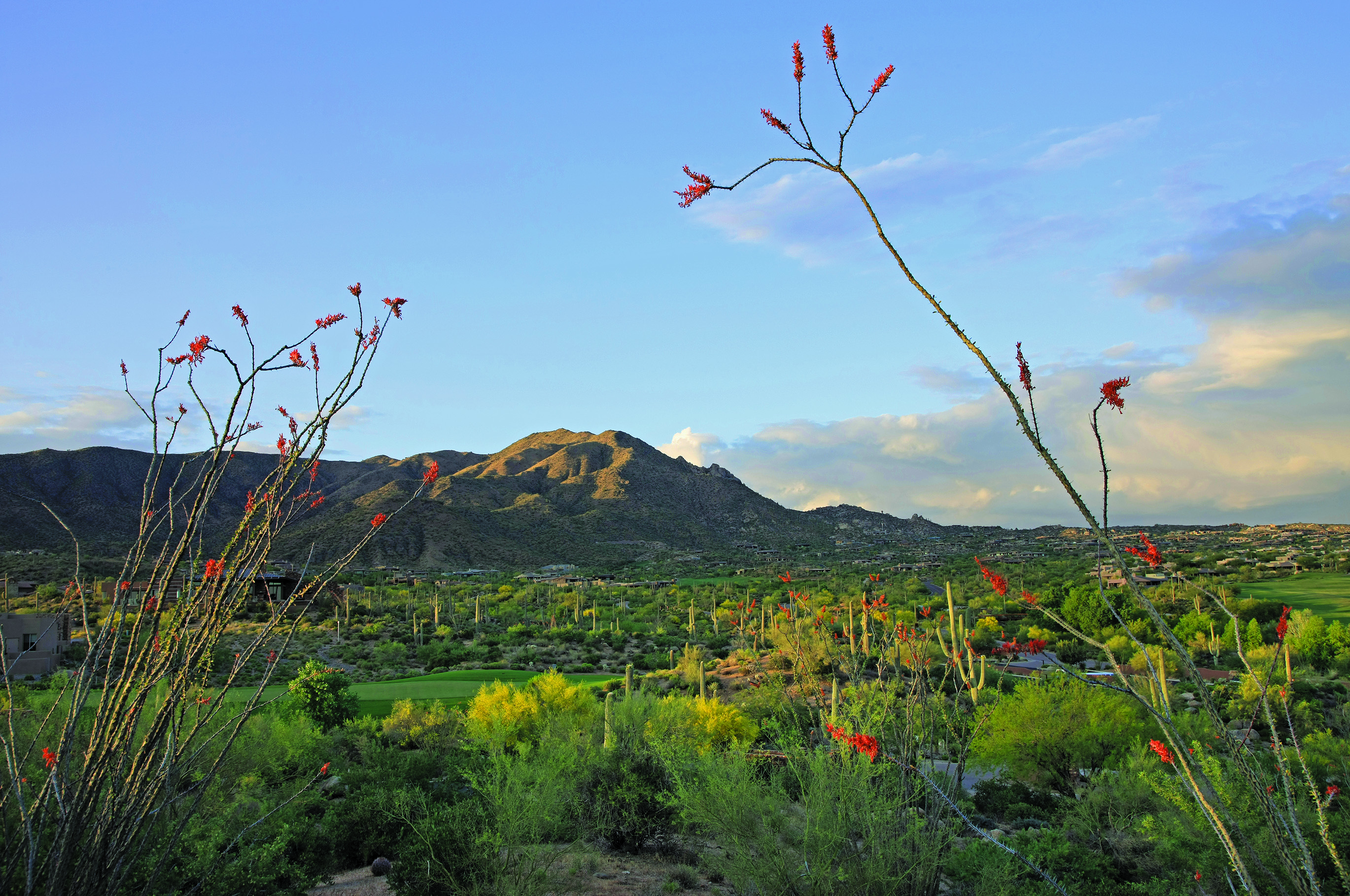 Are you prepping your home for summer or staging your property for a successful home sale? Here are the top gardening trends that you'll find in Desert Mountain houses — including what desert plants you should incorporate in your garden.
Keep reading to learn what flowers and cactus thrive in Desert Mountain's landscape and climate. We're sharing everything you need to know about these plants here…
1. Prickly Pear Cactus
The Prickly Pear Cactus is commonly found throughout Arizona. This cactus is distinguished by its broad, green, round pads. Prickly Pear have spines, and they can produce flowers and fruit. Here are some additional facts on the Prickly Pear:
Typically grow 5 feet tall and 10–15 feet wide

The Engelmann Prickly Pear is the most common

Require sandy or gravelly soil
For a flowering cactus that will last a few decades or longer, consider adding a Prickly Pear to your Desert Mountain landscaping.
2. Desert Marigold
The Desert Marigold is a beautiful flower that typically lives for more than two growing seasons, making it a perennial flower. This flower is easily recognizable thanks to its vibrant yellow color. Here are some additional facts on the Desert Marigold:
Typically grow 1–2 feet tall and 2 feet wide

Butterflies and bees may be attracted to the yellow pigment

Require sandy or gravelly soil
3. Saguaro Cactus
The Saguaro Cactus is an iconic symbol of Arizona and the desert in general. The "arms" and height of the saguaro make it stand out among other cactus species. This cactus is characterized by white flowers, which bloom for less than 24 hours. The Saguaro also produces fruit, which both humans and animals can digest. Here are some additional facts on the Saguaro Cactus:
Typically grow 9–50 feet tall

The fruit is a good source of nutrients and hydration for desert animals

Require well-drained soil
4. Ocotillo
The Ocotillo is known as being one of the most recognizable plants in the desert. The plant grows like a shrub, with long stems. At the end of each protrusion are red flowers, which usually bloom from March through June. Here are some additional facts on the Ocotillo:
Typically grow 20 feet tall

Ocotillo are often used as "fencing" in landscaping as they have spines that will keep critters out

Require well-drained soil
5. Summer Poppy
The Summer Poppy is an annual flower that is found around the Sonoran Desert. Each flower is characterized by beautiful pink and orange petals. Here are some additional facts on the Summer Poppy:
Typically grow 3 feet tall

Technically, Summer Poppies aren't true poppy flowers as they belong to a different plant family

Require sandy soil
Next steps: Purchasing or selling a Desert Mountain home
Whether you have an existing property in Desert Mountain or you're hoping to move into the neighborhood, be sure to keep the Desert Mountain landscaping guidelines in mind. These recommendations are extra helpful when planning out the garden and landscaping for your Desert Mountain home.
If you've been on the lookout for a home in Desert Mountain, reach out. We're happy to help you find the home of your dreams located in this magnificent luxury community.